Cranbrook Academy of Art Acquires Digital Jacquard Loom
February 11th, 2019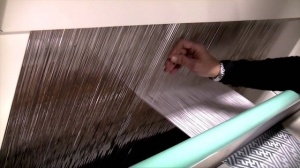 Cranbrook Academy of Art announced today that it is purchasing a Thread Controller 2 (TC2) Digital Jacquard loom, to be housed in the Academy's Fiber Department.
Manufactured by Tronrud Digital Weaving in Norway, the loom will allow Academy students to take their ideas from design to reality in a matter of hours.
The TC2 is used primarily as a sampling and rapid prototyping loom with the output being woven "hardcopies" of a student's design. Designers upload their designs using the loom's software and manually operate the loom to create the finished product. The loom will allow for students to create a sample with a variety of colors, fibers, weave structures, warp and weft densities – all within a short period of time.
"Our students have ambitious visions for their work," says Fiber Artist-in-Residence, Mark Newport. "This will help them to create more intricate designs and expand upon their ideas without compromising on the quality of the piece. We're thrilled to be able to offer it as a tool for our current and future students."