Cranbrook Mourns the Passing of Bob Yares
February 25th, 2019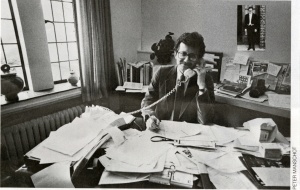 This weekend, we were saddened to learn of the passing of Bob Yares, a longtime employee of Cranbrook Academy of Art. Bob held a variety of administrative positions at the Academy from 1978–2009 and was well-loved by students, staff and alumni.
A true jack-of-all-trades, Bob knew the inner workings of the Academy and would stop at nothing to use that knowledge to help a student.
Roy Slade, President of Cranbrook Academy of Art and Art Museum from 1977-1995, had this to say about Bob, "Robert Yares, known as 'Bob,' was my assistant and is a friend forever! I met Bob when he was working for the Michigan Art Train. I had flown to Marquette and Bob met me at the airport and drove us to the hotel. By the time we got to the hotel, I was so impressed by our conversation that I offered Bob a job as my assistant; just like that! I never regretted that immediate decision; he accepted. Bob had an art degree, knew the state of Michigan, its communities and legislature. His quiet personality, humor, and dedication were appreciated. Words can not express my gratitude to Bob for all that he did for the Academy and me during my years as President. His responsibilities were many including working with the Women's Committee; Studio Council; Annual Auction; Design Michigan; College Art; receptions and fundraisers. His work with the students and alumni was invaluable; he knew them all."
Former Academy student, and current Director of Cranbrook Art Museum, Andrew Blauvelt said, "If there was ever a Mayor of Academy Way, it was Bob Yares. Bob was Roy Slade's right-hand man and it seemed like he knew all the Academy students. If not, they certainly knew him. He was a confidante and friend to many. His effervescent demeanor and sense of humor were an attractive antidote to the grad school blues that seemed like a right of passage at Cranbrook. He will certainly be missed and remembered for all of his goodwill and the good cheer he brought to the Academy."
We will share details regarding services for Bob as soon as they become available.