Nancy Skolos and Tom Wedell Open a New Exhibition
March 11th, 2019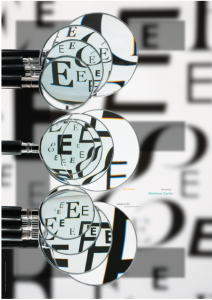 Nancy Skolos (Design '77) and Tom Wedell (Photography '76) recently opened the exhibition Overlap + Dissolve: A Lifelong Collaboration at the Kendall College of Art and Design of Ferris State University.
The award-winning designers converge graphic design and photography to create intricate collages of 3D images influenced by modern painting, technology, and architecture. With the poster as their chosen format, they move deftly between analog and digital realms and blur the boundaries between 3D form-making and the 2D surface. Through a curated collection of posters, collages, and models, this exhibition emphasizes Skolos + Wedell's shared passion for process and showcases a thriving partnership four decades in the making.
Read more about the exhibition here.