Cranbrook 3D Design at ICFF
May 13th, 2019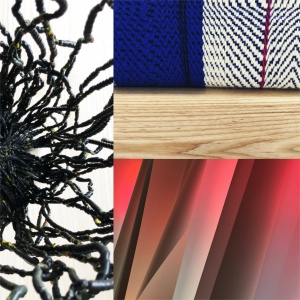 The Cranbrook Academy of Art 3D Design Department will present the new exhibition Design Mutations at the International Contemporary Furniture Fair (ICFF) next week. The exhibition will be on view from May 19–22 in the Javits Center, located on Eleventh Ave, between 34th and 40th streets in Manhattan. They will be in Booth 2739.
About the Exhibition
At Cranbrook, a new generation of designers see through trans-disciplinary eyes. Old categories of design, art, and craft, interbreed to form new mutations that are comfortable in their in-betweenness. This method has been part of Cranbrook's DNA from the start when midcentury designers like Eames, Saarinen, Bertoia, and Knoll borrowed hands-on craft methods and contemporary art practices to revise the 'machine aesthetic' of the Bauhaus into a more organic, human vision of modernism. Today, young designers find their own way to remix language and materials, like a creative science, speaking to a conceptual landscape that accepts complexity. By studying the influence of art and craft on design, the potentials of design begin to mutate and stretch into new directions that question our assumptions about use, form, materials, typology, sensory qualities, and the poetic role of objects.
Participating students include Simon Anton, Joong Han Bae, Peng-Chih Chu, Dee Clements, Kyle Joseph, Karen Lee, Erik Magnuson, Cody Norman, Sunny Kim, Phoebe Kuo, Joe Parr, Joseph Shedd, Jiaxiang Shen, Yi Zhang.
For more information about ICFF, visit their website.