Cranbrook Mourns the Loss of George Francoeur
August 19th, 2019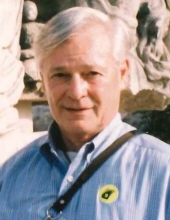 Today we received news of the passing of George R. Francoeur, a 1960 Design alumnus of Cranbrook Academy of Art and longtime supporter of the Cranbrook community.
George was very active with both the Academy and Cranbrook Art Museum throughout his life, donating both his time and resources. In addition to donating several works to Cranbrook's collection, in 2014, he also established the George Francoeur and Gerald Earls Scholarship Fund in support of future Academy of Art students.
George and Gerald "Jerry" Earls (1939-2007) were partners in life and business for 42 years. George began in commercial interiors and found his place in education. He taught at Henry Ford Community College for 30 years, where he was able to develop an Art History program and an Interior Design program. He also started an art collection at the college which in turn led to the Art Gallery in the Performing Arts Building.
Jerry was a highly sought-after floral designer whose success allowed them to travel extensively in the U.S., Europe, and Asia. These travel opportunities led to a lifetime of collecting artworks. Their collection of ceramics, paintings, and sculptures include works by Cranbrook Academy of Art faculty and alumni.
Services will be held graveside this Thursday at 11am at White Chapel Cemetery in Troy, Mich. Read the full obituary here.