Cranbrook + Detroit Month of Design
September 5th, 2019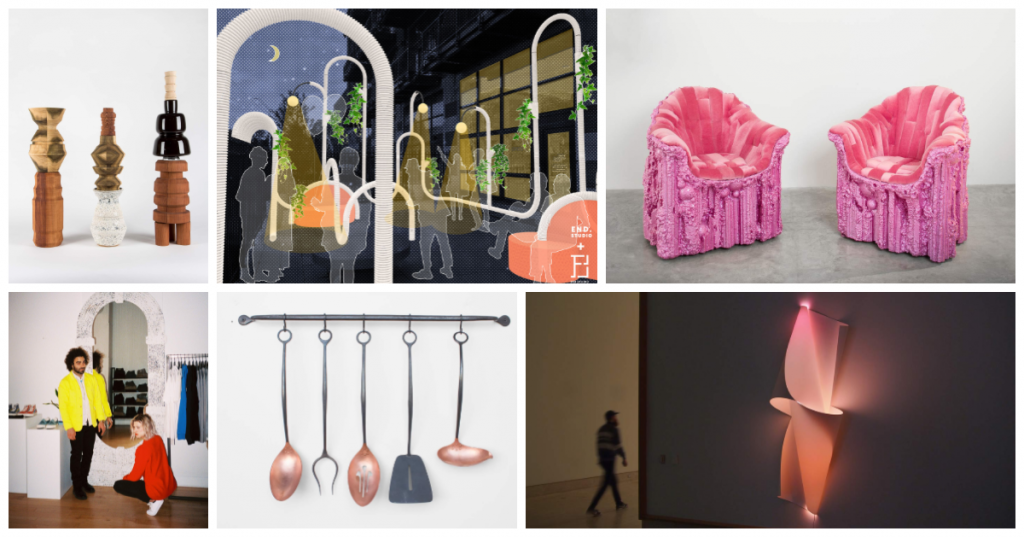 Detroit Month of Design is a citywide celebration of creativity that gathers designers and the greater community to celebrate Detroit's role as a national and global design capital. And work by Cranbrook alumni is featured throughout the city.
Every September, Design Core works to bring together partners throughout the city to show off their latest works and ideas. These cross-disciplinary events take place in all corners of the city, highlighting the talent and innovation that makes Detroit a UNESCO City of Design.
Visit the Design Core website for a full list of events this month. Below are the events that have Cranbrook connections.
Thursday, Sept. 5
4pm–8pm
Designer Dating Game
Design Core Detroit
The Alger Theater – 16451 E Warren
Featuring Meaghan Barry (2D Design '12)
Friday, Sept. 6
6–9pm
SUBSTANCE Exhibition by Form&Seek
Detroit Center for Design + Technology
4219 Woodward Ave, Detroit
Tickets Here
Featuring work by:
Alberte Tranberg (Metalsmithing '18)
Karen Lee (3D Design '20)
Sara Nishikawa (Ceramics '17)
Scott Klinker (3D Designer-in-Residence)
Sophie Yan (3D Design '17)
Shelly McMahon (Metalsmithing '18)
Studio Herron, Dee Clements (3D Design '20)
Sub Studio (Hannah Dewhirst, Architecture '17 + Ingrid Schmidt, Architecture '16)
Sunny Kim (3D Design '19)
Studio Thing Thing (Simon Anton, 3D Design '20)
Aaron Blendowski (3D Design '06)
Exhibition curated by Sophie Yan (3D Design '17)
Tuesday, Sept. 10
9:30–11:30am
An Exploration of Transformational Design Panel Discussion
dPOP
711 Griswold St Detroit
Susan R. Ewing, the Maxine and Stuart Frankel Director of Cranbrook Academy of Art, will join a panel discussion exploring how strategic and thoughtful design has the ability to change culture. dPOP will also showcase new work by Joe Parr (3D Design '19) that is the result of a collaboration with Cranbrook Academy of Art's 3D Design Department in a fellowship designed to foster creative exploration in the community. RSVP here.
Wednesday, Sept. 11
1–1:30pm
Open Studio: Chris Schanck (3D Design '11)
11411 Buffalo Street, Hamtramck
2–5pm
Open Studio: Jack Craig (3D Design '12)
Mt Elliot Studios, 2915 Mt Elliot
Saturday, Sept. 14
6–8pm
ARCADE Opening
Simone DeSousa, EDITION
444 W. Willis, Detroit
Fernando Bales (Architecture ' 13) and Elise DeChard (Architecture '17)
Simone DeSousa EDITION is pleased to present ARCADE, a collaborative installation by Elise DeChard (Architecture '17) and Fernando Bales (Architecture '13), activating the gallery and courtyard as a dynamic Design Month destination for the second consecutive year. Serpentine concrete forms weave through the space punctuated by furniture pieces. Cast from ready-made corrugated irrigation tubes, the rippling surface of the concrete arches offer tactile engagement. The installation invites visitors to wander in to commune, reflect, or simply be. ARCADE will be on view through October 12, 2019.
Saturday, Sept. 21
10am–8pm
Metalwork Market
Smith Shop
180 Victor St., Highland Park
Smith Shop is co-owned by Amy Weiks (Metalsmithing '12). Work by Kristine Bolhuis (Metalsmithing '03) will be on display.
More information here.
Detroit Design 139: Inclusive Futures
On View Aug. 31 – Sept. 30, 2019
The centerpiece exhibition of Detroit Design Month. The exhibition theme this year is "Inclusive Futures," through which Design Core explores how designing a city to be more inclusive will result in positive outcomes for everyone. The focus areas for 2019 are inclusive neighborhoods, housing, public spaces, economy and city systems, helping us to focus on creating multi-generational design solutions that result in Inclusive Futures for everyone. Gretchen Wilkins (Cranbrook Academy of Art Architect-in-Residence) served as an Advisory Committee Member. For the full schedule, click here.
Cranbrook alumni work can be found at the following locations:
8869 Avis, Detroit
Detroit Collaborative Design Center
Et al. Collaborative (Tadd Heidgerken, Architecture '08)
Ochre Bakery, Detroit
Et al. Collaborative (Tadd Heidgerken, Architecture '08)
Ride It Sculpture Park, Detroit
Designed by Gina Reichert (Architecture '03) and Mitch Cope
Power House Productions