Scott Klinker Opens Solo Exhibition 'Structures of Light' on January 10, 2020
January 3rd, 2020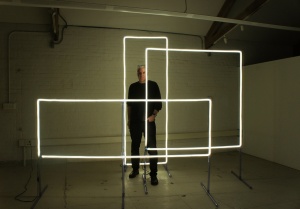 3D Designer-in-Residence Scott Klinker (Design '96) will open his new solo exhibition Structures of Light at the gallery located at 1301 Broadway in Detroit on January 10. The installation features abstract 3D structures that define space with a new LED neon lighting technology. The experience is like entering the space of a glowing, geometric line drawing. The exhibition will be on view from January 10 through January 31, 2020.
The event is co-hosted by Cranbrook Academy of Art and PLAYGROUND DETROIT. The space is generously sponsored by Bedrock. Read more about the project here.
Read the Detroit Metro Times feature of Structures of Light here.