Porcelain Panels by Joan Rosenberg-Dent Join Seven Seas Splendor Collection
January 14th, 2020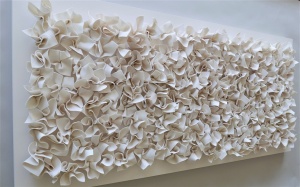 Meguri: Land – Sea by Joan Rosenberg-Dent (Ceramics '80) is part of an extensive art collection aboard the new Seven Seas Splendor cruise ship by Regent Seven Seas Cruises.  Two large white panels, one titled Land, the other Sea, clad with hundreds of translucent porcelain pieces will adorn the walls of the ship which begins its inaugural season in February 2020.
Read the press release on the Seven Seas Splendor art collection here.
Visit Joan Rosenberg-Dent's website here.