Nina Cho Named Recipient of WantedDesign's 2020 American Design Honors
February 24th, 2020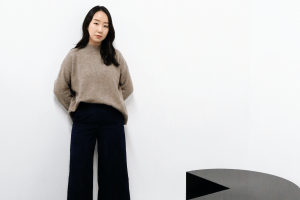 Designer Nina Cho (3D Design '15), currently based in Detroit, Mich., has received WantedDesign's 2020 American Design Honors.
The American Design Honors award was created by the WantedDesign co-founders in 2015 to recognize up-and-coming American designers who embody excellence in creative design and superior entrepreneurial ability.
Through the American Design Honors, WantedDesign aims to promote exceptional American Design in the broader international arena while providing a means of support for young designers seeking to amplify their impact and reach.
Previous honorees include New York-based Egg Collective (2015), Chicago based Steven Haulenbeek (2016), Portland-based Studio Gorm (2017), NY based Oliver Haslegrave, founder of Home Studios (2018) and Arielle Assouline Lichten (2019).
"I am inspired by the traditional Korean aesthetic of emptiness," says Cho. "In painting, the unpainted portion of a canvas is as important as the painted part. It is about respecting the absence as much as the object. Through practicing the beauty of the void, I respect not only the object itself but also the negative space that the object creates. Rather than a deficiency, the voids welcome air, surroundings, and the spirit of the space; leaving empty spaces in my pieces invite users to creatively complete the work."
Every year to create their shortlist, WantedDesign looks for candidates across the US who already have a solid body of work, an original design language, beautiful sensibility, and also have a sense of entrepreneurship.
As part of the American Design Honors program, Cho has been invited to create an installation at the entrance of WantedDesign at the Industry City building to showcase their work.
Read WantedDesign's profile of Nina Cho here.