Keith Goldstein's "Homage to Manhatta" Featured by PROVOKR
February 26th, 2020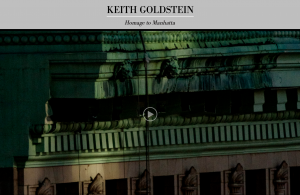 Keith Goldstein's (Photography '84) Homage to Manhatta photo series is featured by PROVOKR.
Keith Goldstein's photography series Manhatta is filled with the wonder of a boy mesmerized by the soaring architecture and light that makes Manhattan so unique. Goldstein was heavily influenced by the 1921 film Manhatta by Paula Strand and Charles Sheeler. It is considered the first avant-garde film. Keith Goldstein said to PROVOKR, "something just clicked when I saw Manhatta again and I started to think about my building images."
Read the full article from PROVOKR and see more images of Goldstein's work here.