John Zane Zappas Featured in California Botanic Garden 2020 Resident Artist Exhibition
September 9th, 2020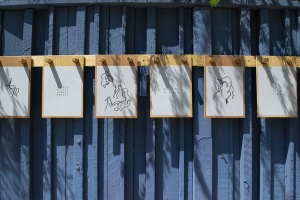 John Zane Zappas (Print Media '12) completed an artist residency with several other artists this summer at the California Botanic Garden. The artists' residencies culminate in Homing: A Group Exhibition. The virtual and onsite exhibition launched on Friday, August 28, 2020. The virtual exhibition ends December 1, 2020, and the onsite exhibition ends October 1, 2020.
Zappas created over 100 drawings during his residency, inspired by the way plants grew in relation to obstacles in their environment. He also created a special book of drawings and verses available free to visitors of the garden. Several of the drawings from the series are available to purchase from the California Botanic Garden shop.
Read more about Zappas work and the artist residency at California Botanic Garden here.