Wade Tullier Opens Solo Exhibition 'Hear Say' at Primary in Miami
December 1st, 2020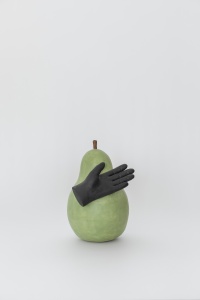 Wade Tullier (Ceramics '17) has opened his first solo exhibition with Primary in Miami, FL. Hear Say, is a collection of Tullier's new sculptural works and paintings.
"I make sculptures that depict animals, figures, phenomena, and everyday objects. They are always recognizable but become elusive as I continue to reinterpret each piece. In this way, my sculptures act as characters in oral history: they transform as they are retold. While these objects remain familiar and are easily identifiable, the combinations of works remain ambiguous. They echo the layered, nonlinear structure of memory as it is excavated through storytelling," says  Tullier
Read more about the exhibition from Premiere Guide Miami here. See images of the exhibition from Primary here.