Carla Diana's New Book Is a Top 10 Technology Read for 2021
January 5th, 2021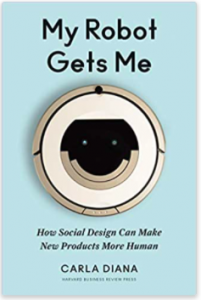 Carla Diana's (3D Design '11) latest book, My Robot Gets Me: How Social Design Can Make New Products More Human, is one of the top 10 technology reads of 2021 according to The Enterpriser's Project. Carla Diana is the 4D Design department founder and Designer-in-Residence and the head of design for Diligent Robotics. My Robot Gets Me discusses how human-centered design can take smart technology products to the next level.
My Robot Gets Me is currently available for pre-order and will be released on March 30, 2021.
Read the article from The Enterpriser's Project here.