Annie Vieux's Digital Painting Installation 'meta-material' Transforms Cinema's Exterior
January 20th, 2021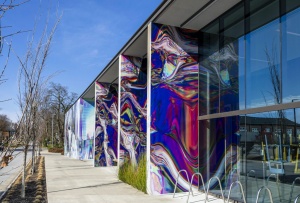 Annie Vieux (Painting '12) was recently commissioned by curators JustKids to create an installation to transform the exterior of the Skyline Cinema in Bentonville, Arkansas. Vieux created a new digital painting that creates an illusion of fluid space which was applied to the exterior using printed vinyl.
The "meta-material" installation is part of Arkansas' statewide "ARkanvas" project which aims to bring public art installations by renowned artists to its communities.
Click here to read the full article from FAD Magazine.