Chitra Gopalakrishnan's New Solo Exhibition, 'Augmented Realities' Opens at Hill Street Country Club
April 24th, 2021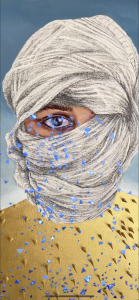 Chitra Gopalakrishnan (2D Design '09) solo exhibition, 'Augmented Realities', opens at The Hill Street Country Club on April 24th with a special virtual event at 8pm EST/ 5pm PST.
'Augmented Realities' consists of a series of mixed media and augmented reality experiences with 3D elements resonating resilience and resistance as a woman. Stepping out of boundaries, Chitra Gopalakrishnan has experimented with painting, ceramics, and motion graphics among her collection which will be on display beginning April 24th. Her message of resistance and resilience is fluid, visually consisting of self-portraits ranging in size and compositional structures.
The Hill Street Country Club is a non-profit organization dedicated to shaping the growing arts and culture scene in Oceanside and the surrounding North Country region.
AUGMENTED REALITIES' (4/24 – 6/20) at the Hill Street Country Club, Oceanside CA