Cranbrook Academy of Art Alumni Awarded 2021 Kresge Artist Fellowship and Gilda Emerging Artist Awards
July 1st, 2021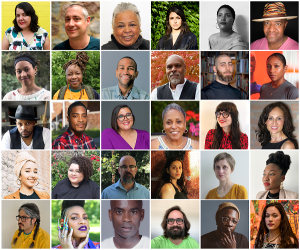 Andrew Thompson (Sculpture '06) has been named a 2021 Kresge Artist Fellow in Visual Art. Kresge Artist Fellows receive $25,000,  one year of professional development, and will be featured in Kresge Arts in Detroit's commissioned film series, which documents the work and perspectives of fellows throughout the program's history.
Cyrus Karimipour (Photography '06) and Jessica Frelinghuysen (Architecture '06) were both awarded a Gilda Emerging Artist award of $5,000, named in honor of Gilda Snowden's (1954 – 2014) legacy as a mentor and champion of emerging artists in metro Detroit.
Kresge 2021 Artist Fellows | 2021 Gilda Emerging Artist Awards
Read the announcement from The Kresge Foundation.
Read more from the Detroit News.