Sven Anderson Exhibits Alongside His Students and Alumni at SUNY Oneonta
December 1st, 2021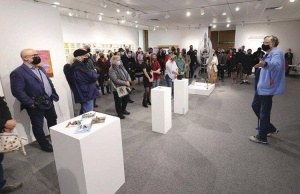 Sven Anderson (Printmaking '85) recently opened "What Can You Do With a Degree in Art", a solo exhibition of his work along with the work of his students and alumni. Anderson is a Digital Art Associate Professor at SUNY Oneonta's art department. The show is a diverse representation of decisions, work, and perspectives that developed from a single mentor and degree program. Anderson has taught at SUNY Oneonta since 1997 and in his spare time, serves as an assistant for several Ansel Adams Gallery Photography Workshops in Yosemite.
"That's what this exhibition is about – celebrating all the things they have gone on to do." – Sven Anderson
"What Can You Do With a Degree in Art" is on view through December 23, 2021, in all three art galleries in the Fine Arts building on the SUNY Oneonta campus.
Read the full article from The Daily Star