Academy Artists Participate in Multiple Exhibitions as Part of Might Real/Queer Detroit
June 2nd, 2022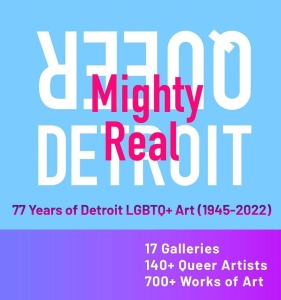 Mighty Real/Queer Detroit is a month-long examination of the diversity of the LGBTQ+ community and its longtime allies, featuring established and emerging Detroit artists, as well as artists whose careers were shortened by HIV/AIDS. Over 700 works of art by more than 140 artists are featured across Detroit including 25 Cranbrook Academy of Art Artists-in-Residence and alumni.
Delayed two years by the coronavirus pandemic, the event celebrates 77 years of queer art in Detroit and queer artists' integral contributions to art and culture in our area.
The opening weekend takes place from June 2 through June 5, 2022.
Participating Cranbrook artists and where to see their work:
More about Might Real/Queer Detroit
Read more from the Metro Times
Read more from The Detroit News
Read more from The Macomb Daily