Julian J. Jones' Debut Solo Exhibition Opens September 9, 2022 at PLAYGROUND DETROIT
August 24th, 2022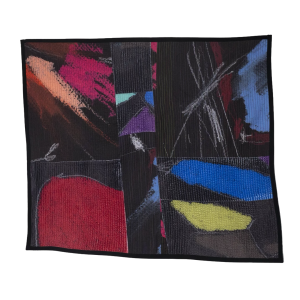 Julian J. Jones' (Photography '22) debut solo exhibition, MARKINGS, presented in collaboration with Detroit Month of Design, opens to the public on Friday, September 9th. Jones' quilted works, with images derived from his abstracted gestural drawings, create compositions inspired by traditional African American quilting, specifically "The Gee's Bend Quilters" from the Pettway Plantation in Wilcox County, Alabama. Paired alongside Jones' vivid quilts are the original oil pastel drawings, connecting his associations and giving the audience access to his process which includes craft, composition, color theory, and textile design.
MARKINGS will be on view from September 9 through October 15, 2022.
Opening reception: September 9, 2022, from 6-9pm. RSVP requested.
Artist Talk:  September 22nd, at 6pm.
By combining custom textiles with solid fabrics, Jones' works embrace and incorporate an aggressive mingling of colors, shapes, and forms as a result of pure artistic intuition. "The markings follow no physical law, no up nor down; they defy gravity to bypass the viewer's critical facilities and open up a conversation around my Black experience," he explains.
Learn more from PLAYGROUND DETROIT