Nick Cave Talks to The New York Times About His Partnership with Knoll Textiles
January 20th, 2023
Nick Cave (MFA Fiber 1989) recently sat down with The New York Times to discuss his partnership with Knoll Textiles on a new collection of wall coverings, upholstery, and drapery.
"When I was invited to do this collaboration, I immediately thought of Cranbrook [Academy of Art], where I did my graduate work. I was surrounded by Knoll and by [Eliel and Eero] Saarinen. I would pull out these amazing textiles created in the 1970s, and think about the Arts and Crafts movement and its influence. It's part of my DNA now. I'm always thinking about the transition: how does an artwork transition into a textile or bronze? It comes down to the essence, and transferring that essence over." – Nick Cave to Wallpaper in October 2022.
The textiles were inspired by Cave's works including different Soundsuits and his installations Until and Architectural Forest. They include photorealistic printing, weaving, embroidery, and hand-sewn elements. The collection includes Knoll Textile's first floral wall covering, Big Floral, inspired by a beaded Soundsuit. Watch Cave talk with Knoll below.
Nick Cave's retrospective Nick Cave: Forothermore is on view at Guggenheim, New York through April 10, 2023. The exhibition features sculpture, installation, video, and rarely-seen early works. Read more about it in The New York Times,  Cultured magazine and Forbes.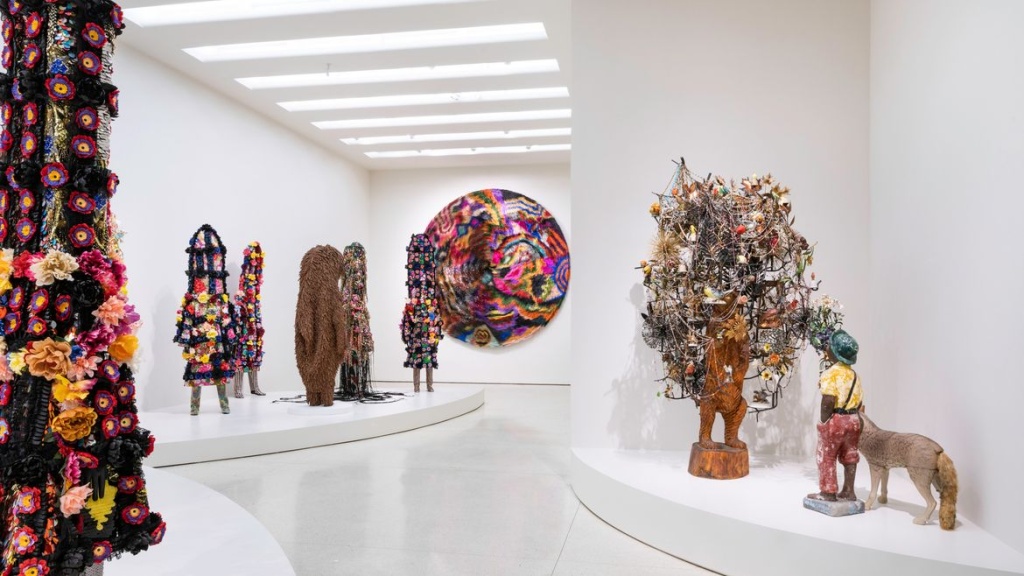 Cave's most recent installation is 'The Air Up There' at the Kansas City International Airport. Comprised of over 30,000 strands, custom spinners depict icons from the Kansas City region such as fountains, native animals, as well as symbols of equality and love, inspired by the magic of flight.
Read more about Nick Cave and Knoll Textile's collaboration from Wallpaper
Read more about Nick Cave and Knoll Textile's collaboration from Metropolis Magazine
Explore The Nick Cave Collection on Knoll's website