Zhiheng Gong Featured in Group AAPI Exhibition, "Earth Is Just A Rock"
May 31st, 2023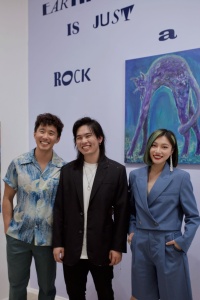 Chinese artist and designer, Zhiheng Gong (MFA 4D Design 2022) is featured in a group exhibition at Yiwei Gallery in California that showcases Asian American and Pacific Islander (AAPI) artists. Earth is Just a Rock considers the shifting dichotomy between the realms of science and mysticism, both significant to the included artists in a range of mediums. In the face of "monstrous creations" of human progress in evolution and technology, the artists search their hearts and minds for moments of vulnerability to find growth and move forward.
Earth is Just a Rock is on view through June 10, 2023.
Learn more:
Earth is Just a Rock – Yiwei Gallery