Megan Heeres' Solo Exhibition "Tending Time" Opens at Matéria, Formerly Simone de Sousa Gallery
September 6th, 2023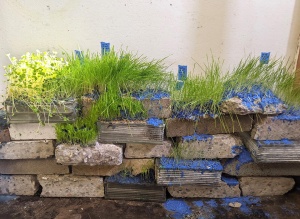 Matéria, formerly Simone de Sousa Gallery opens Megan Heeres' (MFA Fiber 2009) new solo exhibition, Tending Time, on September 9, 2023. The exhibition features all new work that explores different scales of time through materiality and form. Specifically, the work reflects the she has spent at the gallery and the site that surrounds it.
Of these time scales, Heeres says. "A slab of concrete with its aggregate rock and lime is a slice of earth's ancient history from a time-scale that we can barely comprehend. The Japanese knotweed plants, all around Detroit, grow at a break-neck pace that can take down a 50-year-old tree in a matter of a few months. I create handmade paper pulp from plants, a deliberate and repetitive process that forces me to slow down. Neighborhoods in Detroit are contending with a new sense of time, as development that didn't exist a decade ago is moving in and moving quickly, changing the places people have come to know."
Megan Heeres: Tending Time will be on view through October 7, 2023. Several programs are available through September and October, including a performance, nature/sound walk, and closing party. Please visit Matéria's website for more information.
Learn more:
Megan Heeres: Tending Time – Matéria