"Atmospheric Conditions", New Solo Exhibition by Marianne Desmarais Opens at Staple Goods Collective
November 11th, 2023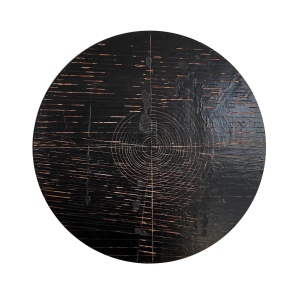 Cranbrook Academy of Art alumna, Marianne Desmarais (MArch Architecture 2002) recently opened a new solo exhibition, Atmospheric Conditions, at Staple Good Collective in New Orleans, Louisiana. The show features work including mixed media assemblage and incised synthetic rubber on vintage linoleum pieces. The artifacts used in these works are all collected from post-consumer use across North America.
The artworks oscillate between surface and depth where the artist's marks slice through layers of material accretions built up over lifetimes, Desmarais's and others. Precise cutlines reveal textures and flashes of color to create flickering views into immersive visual space.
In counterpoint, voluptuous sculptures hold plastic artifacts in suspension to engage the surrounding air. These works move between past, present, and future tense mixing memories of common things with the slipperiness of their new skins. The liquid rubber cleaves found objects and diaphanous fabric together with hardening cohesiveness. The sculptures conceal, stack, and rearrange objects we think we know the shape of. Desmarais encourages us to see the expansive physical world through the timelessness of now.
Atmospheric Conditions is on view through December 3, 2023. Please see Staple Goods Collective for gallery hours.
Learn more:
Marianne Desmarais: Atmospheric Conditions – Staple Good Collective