Saturday, 24 September, 2022
3:00 pm - 5:00 pm
RSVP
September 24, 2022
Detroit Month of Design: Book Launch! My Robot Gets Me: How Social Design Can Make New Products More Human
Saturday, 24 September, 2022
3:00 pm - 5:00 pm
RSVP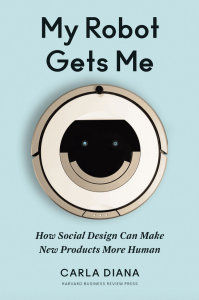 Come celebrate the first in-person launch of the head of 4D Design at Cranbrook Academy of Art, Carla Diana's UX-focused product design book, My Robot Gets Me: How Social Design Can Make New Products More Human (Harvard Business Review Press).
This talk will take a fresh look at products in our everyday lives through the lens of social robotics. Robot designer and technology author Carla Diana will share case studies from over a decade of projects that span from thermostats to hospital robots, looking at how a holistic approach to design can give teams a clear vision for creating products that are built on meaningful, intuitive, and delightful interactions.
Diana will offer a sneak peek into her new book as well as a glimpse into the labs at Cranbrook Academy of Art's unique Master of Fine Arts program in 4D Design.
Hosted By
Hosted By
4D Design Department