Tuesday, 11 April, 2023
7:00 pm - 8:00 pm
RSVP
April 11, 2023
Cranbrook Conversations: Curtis Chin
Tuesday, 11 April, 2023
7:00 pm - 8:00 pm
RSVP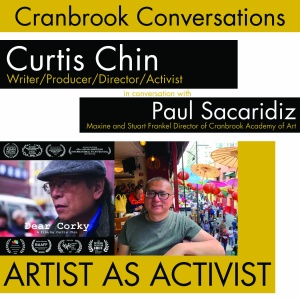 Join us for a screening of the award-winning film Dear Corky (run time 18 minutes) by producer, director, actor, and author Curtis Chin, followed by a conversation with Paul Sacaridiz, Director of Cranbrook Academy of Art.
The event will be held in person at deSalle Auditorium at Cranbrook Museum of Art (RSVP for in-person conversation) and available online for streaming via Zoom Webinar.
About the Film: For over 50 years, New York native Corky Lee photographed his hometown's Chinatown and Asian American communities around the country. With a strong sense of social justice, he captured activists, celebrities, and everyday heroes with equal passion, taking over 100,000 photos. Sadly, while documenting the latest rise of anti-Asian hate crimes, Corky fell to COVID. Through his own words and pictures, DEAR CORKY reveals the man behind the camera.
About Curtis Chin: A graduate of the Creative Writing program at the University of Michigan, Curtis Chin has received awards from ABC/Disney Television, New York Foundation for the Arts, the National Endowment for the Arts, and more. Chin has screened his films, VINCENT WHO? and TESTED, with over 600 entities in 16 countries. A co-founder of the Asian American Writers' Workshop, his memoir, "Everything I Learned, I Learned in a Chinese Restaurant" will be published by Little, Brown and Company in Fall 2023. See more at www.CurtisFromDetroit.com.
About Paul Sacardiz: Paul Sacaridiz is the Maxine and Stuart Frankel Director of Cranbrook Academy of Art in Bloomfield Hills, Michigan. Over the course of his career, he has been widely recognized for his work as an artist, educator, administrator, and leader in higher education and the nonprofit sector.