Beverly Fishman Announces Departure from Cranbrook Academy of Art
January 8th, 2019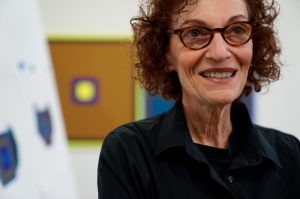 Bloomfield Hills, Mich., January 8, 2019 – Cranbrook Academy of Art announced today that Beverly Fishman, Artist-in-Residence and Head of the Painting Department, will leave the Academy at the end of the 2018-2019 academic year. Fishman notified the Academy of her decision in December.
Fishman was appointed Artist-in-Residence and Head of the Painting Department in July of 1992 and is currently in her 26th year of teaching at the Academy. For the 2019-2020 academic year, current Visiting Artists-in-Residence Martha Mysko and Willie Wayne Smith will return for the entire year. An international search for Fishman's permanent replacement will begin in the fall.
Fishman holds a Bachelor of Fine Arts degree from the Philadelphia College of Art, and a Master of Fine Arts degree from Yale University. Prior to coming to Cranbrook, she held positions at Maryland Institute College of Art (MICA) in Baltimore and the College of New Rochelle, Graduate Art School in New Rochelle, New York.
Fishman is an internationally-recognized painter and sculptor who adopts the language of abstraction to explore the body, issues of identity, and contemporary culture. For more than three decades, she has used imagery drawn from science, medicine, and the pharmaceutical industry to promote inquiry into the effects of these institutions on both individuals and societies.
While at Cranbrook, Fishman has created work for more than 30 solo exhibitions at galleries around the world. Her work has also been shown at the Chrysler Museum, the Detroit Institute of Arts, the Toledo Museum of Art, and the Columbus Museum of Art, among others. While at Cranbrook, Fishman has also been an active lecturer in the field of painting, giving more than 50 talks both nationally and internationally.
Fishman's work is included in many public and private collections around the world. She is the recipient of many awards, including the Hassam, Speicher, Betts, and Symons Purchase Award, American Academy of Arts and Letters; a John Simon Guggenheim Memorial Foundation Fellowship; a Louis Comfort Tiffany Foundation Award; an Artist Space Exhibition Grant; and an NEA Fellowship Grant, among others. This month, Fishman received an Anonymous Was A Woman Award, an unrestricted grant of $25,000 that enables women artists over 40 years of age and at a significant juncture in their lives or careers to continue to grow and pursue their work. This nomination-only award is given in recognition of an artist's accomplishments, artistic growth, originality, and potential.
In the 26 years that she has led the painting department, Fishman developed the program into one of the top painting programs in the country according to U.S. News and World Report. She has mentored more than 180 graduates that have gone on to shape the field of painting. A key component to Fishman's teaching was an ambitious travel program that took students to premier artist studios in New York.
"For decades, the name Beverly Fishman has been synonymous with the esteemed reputation of the Academy," said Interim Director, Susan R. Ewing. "Her personal success not only led to a richer experience for the students lucky enough to study alongside her, but it also enhanced the status of the MFA program at the Academy. She will be missed, but we hope she will remain active in Cranbrook creative community."
Fishman said, "Cranbrook is an exceptional institution, and it has been a true honor and privilege to teach here. The faculty and students have always been the best of the best, and to develop my work alongside artists and designers of such caliber has been a dream come true for me. I shall miss everyone tremendously."