Chen Li Receives the 2018 Mercedes-Benz Financial Services Emerging Artist Award for Michigan
May 11th, 2018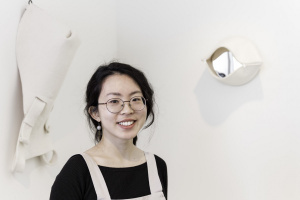 BLOOMFIELD HILLS, MICH., May 11, 2018 -– Cranbrook Academy of Art is pleased to announce that Chen Li (3D Design '18) has been awarded the 2018 Mercedes-Benz Financial Services Emerging Artist Award for Michigan. This is the thirteenth year that Mercedes-Benz Financial Services has given an Academy graduate the award.
Li was selected from among 10 finalists, one from each department at Cranbrook Academy of Art. She is a 2018 graduate of the 3D Design department.
The Emerging Artist Award is part of Cranbrook's 18-year partnership with Mercedes-Benz Financial Services USA LLC, which also includes premier sponsorship of Cranbrook's STUDIO and OPEN(STUDIOS) events, as well as the 2018 Graduate Degree Exhibition of Cranbrook Academy of Art at Cranbrook Art Museum.
The company also supports the Academy and other institutions throughout the country and in Canada through their Experiencing Perspectives art program, which encompasses annual art exhibitions, tours, community conversations and other events. It includes a year-long exhibition and display of student and recent graduate art pieces throughout its regional headquarters in Farmington Hills, Michigan, and its business operations in Fort Worth, Texas and Canada headquarters in Mississauga, Ontario.
"Mercedes-Benz Financial Services is honored to continue fostering connections between our company, our community and the international art community. We place immense value on the influence art has in the workplace. Showcasing visionary works from these talented students helps offer our employees new and different perspectives, and inspires creative thought within our business environment," said Peter Zieringer, President and CEO of Mercedes-Benz Financial Services USA LLC. "We congratulate Chen and all of the finalists for their artistic accomplishments and applaud all of the graduating students."
Li will receive a two-month residency in Berlin from July 1 to August 31, 2018. The award includes travel and lodging, an expense stipend and use of a Mercedes-Benz vehicle during the stay. Most importantly, the Emerging Artist will live and work as an artist-in-residence at the international cultural center the Küenstlerhaus Bethanien. Additionally, as part of a personalized networking program, Li will receive free admission to Berlin museums and introductions to important members of the international art and business communities.
Each finalist presented to a jury on April 30 while showcasing their work at Cranbrook Art Museum. Jurors included Chris Scoates, the Maxine and Stuart Frankel Director of Cranbrook Academy of Art and Art Museum; Peter Zieringer, President and CEO of Mercedes-Benz Financial Services USA LLC; Leila Matta, Manager, Brand Identity, Design and Art Programs, Mercedes-Benz Financial Services USA LLC; Marilyn Finkel, Professor of Art History, Oakland Community College, Art Consultant and Governor, Cranbrook Academy of Art; Dr. Michael Stone Richards, Professor, College for Creative Studies; and Michelle Perron, Director, Exhibitions and Public Programs, College for Creative Studies.
Mercedes-Benz Financial Services also awarded a $1,000 New Beginnings Award to each of the remaining Emerging Artist Finalists. That includes: Lucas Albrecht, 2D Design; Gjergji Prendi, Architecture; Hayden Richer, Ceramics; Ash Arder, Fiber; Shelly McMahon, Metalsmithing; Lydia Enriquez, Painting; Ricky Williams, Photography; Christopher Corey Allen, Print Media; and Heather Mawson, Sculpture.
"We are incredibly grateful to Mercedes-Benz Financial Services for their unwavering support of the arts," says Academy Director Chris Scoates. "This award provides our students with an opportunity they simply could not receive anywhere else. In addition to the financial award, our students gain connections to supporters around the world. Each recipient returns from this trip even more grateful than when they left. I thank them for their many years of support."
Learn more about Chen Li and her work through her website.
Media Contacts:
Julie Fracker
Director of Communications
Cranbrook Academy of Art and Art Museum
248.645.3329
jfracker@cranbrook.edu
Heidi Hall
Corporate Communications Manager
Mercedes-Benz Financial Services USA LLC
248.991.6610
heidi.hall@daimler.com