Cranbrook Academy of Art Announces the 2016 Mercedes-Benz Financial Services Emerging Artist Award Finalists
April 21st, 2016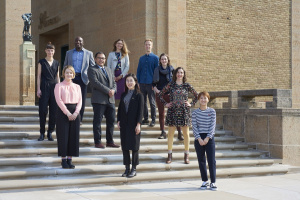 BLOOMFIELD HILLS, MICH., April 21, 2016 – Cranbrook Academy of Art is pleased to announce the finalists for this year's Mercedes-Benz Financial Services Emerging Artist Award.
The award is part of Cranbrook's long-standing partnership with Mercedes-Benz Financial Services and represents the company's commitment to both the Academy and art and design education worldwide.
The finalists, one from each of the Academy's 10 departments, will present their work to a jury of local art and design educators, curators and representatives from Mercedes-Benz Financial Services.
The winner will be announced at Cranbrook Academy of Art's "Academy Awards" presentation held on May 12, 2016.
The finalists are:
Benjamin Santiago, 2D Design
Aleksandra Pollner, 3D Design
Benediktas (Benas) Burdulis, Architecture
Ebitenyefa (Ebi) Baralaye, Ceramics
Jessica Dolence, Fiber
Mengdi (Didi) Liu, Metalsmithing
Dandan Liu, Painting
Kara Gut, Photography
Thea Reid, Print Media
Ana Hansa-Ogren, Sculpture
The Emerging Artist Award recipient will be offered a two-month stay in Berlin from July 1 to August 31, 2016. The trip includes airfare and lodging, an expense stipend of $5,000, a vehicle and an art pass that grants free access to museums in Berlin. Most importantly, the Emerging Artist will also have the chance to participate in a personalized networking program with Mercedes-Benz Financial Services' Berlin partner, the Küenstlerhaus Bethanien, which includes quality media exposure and introductions to members of the international art and business community.