Cranbrook Academy of Art Named One of the Top Ten Fine Art Schools in the Nation by U.S. News & World Report
April 5th, 2016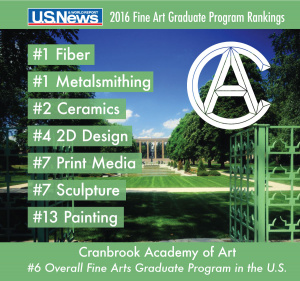 BLOOMFIELD HILLS, MICH., March 31, 2016 – Cranbrook Academy of Art was recently ranked sixth in the nation among fine art graduate programs by U.S. News & World Report. And of all the schools ranked in the top ten, Cranbrook Academy of Art had some of the most individual program-specific rankings, with seven departments ranked in the top 20 of their program.
"Such a high ranking for a school of our size reaffirms the Academy's 84-year history of producing exceptional artists, designers and architects," says Chris Scoates, Maxine and Stuart Frankel Director of Cranbrook Academy of Art and Art Museum. "We often hear from our alumni that our studio-based curriculum helped foster their growth in exceptional ways. To be recognized in such a public way for the work we do encourages us to continue our pursuit of independent thinking and making."
The rankings for fine art graduate programs are compiled every five years. Both our Fiber and Metalsmithing programs were ranked as the best in the country with a first-place rating, our Ceramics program was ranked second, 2D Design fourth, Print Media and Sculpture both seventh, and Painting thirteenth.
To view the full list, visit the U.S. News & World Report website. And read their press release highlighting fine arts programs here.
The rankings were determined by college deans and other high-ranking members of academia from 229 Master of Fine Arts programs across the country. The overall fine arts rankings were based on a peer assessment with a 5-point scale. For the program-specific rankings, like graphic design programs, the schools were asked to nominate up to 10 programs per category. A program had to have at least seven nominations to make the rankings.
Media Contact:
Julie Fracker
Director of Communications
Cranbrook Academy of Art and Art Museum
248.645.3329
jfracker@cranbrook.edu