Cranbrook Academy of Art Names a New Architect- and Artist-in-Residence
April 27th, 2018
BLOOMFIELD HILLS, MICH., April 27, 2018— The Cranbrook Academy of Art Board of Governors and Christopher Scoates, the Maxine and Stuart Frankel Director of Cranbrook Academy of Art and Art Museum, announced today that the institution has named a new Architect- and Artist-in-Residence. Gretchen Wilkins has been named the new Architect-in-Residence and Head of the Architecture Department and Rebecca Ripple has been named Artist-in-Residence and Head of the Sculpture Department.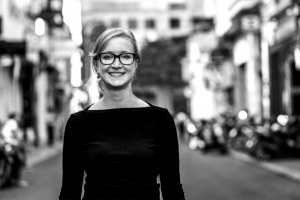 Gretchen Wilkins, Architect-in-Residence
Gretchen Wilkins has been named the Academy's ninth Architect-in-Residence and Head of the Architecture Department. She is currently Associate Professor and Head of Design at RMIT University's Vietnam campus, and previously directed RMIT's Master of Urban Design program based in Melbourne, Barcelona and Ho Chi Minh City. She brings nearly 20 years of architectural teaching and practice to Cranbrook.
Wilkins' architectural work has been internationally published and exhibited, including with Architectural Design (AD), Princeton Architectural Press, the Storefront for Art & Architecture, Ottagono, L'Architecture d'Aujourd'Hui and Metropolis magazine.
She received her PhD from RMIT University and Master of Architecture from the University of Michigan. While at the University of Michigan, Wilkins received the George G. Booth Travelling Fellowship (established by Cranbrook's founder) and later went on to become an Assistant Professor of Architecture at the school.
Wilkins maintains deep Detroit connections, having collaborated with the Detroit Riverfront Conservancy, Greening Detroit and the Mexicantown Community Development Center. Her book Distributed Urbanism: Cities After Google Earth (Routledge 2010) emerged from the Borderlands international symposium she curated in Detroit, supported by the James L. Knight Foundation and hosted by the Museum of Contemporary Art Detroit (MoCAD).
"Gretchen is a collaborative leader with strong connections and a deep knowledge of the international architecture community," said Amy Green Deines, Dean of Cranbrook Academy of Art. "We look forward to watching her bring that experience to our students and expanding the reach our Architecture department beyond the walls of our campus."
In her decade of architectural teaching and practice in Australia and Asia, Wilkins has continued to focus on the city and fostering creative and productive industries within it. Projects such as the Future Factory and Post-Waterfront City have been supported Australia-China Council, Japan Foundation and the Holcim Forum for Sustainable Construction.
"I am thrilled to lead the next chapter of Cranbrook Architecture and to continue the department's amazing legacy of architectural practice, research and experimentation," said Wilkins. "Detroit too has such a rich and important history, I'm very much looking forward to reconnecting to it.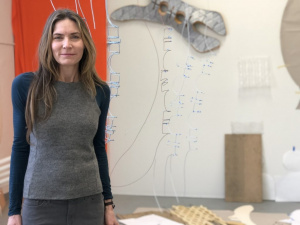 Rebecca Ripple, Artist-in-Residence, Sculpture
Rebecca Ripple has been named the new Artist-in-Residence and Head of the Sculpture Department. She served as the interim Artist-in-Residence for the 2017-2018 academic year, and will now move into a permanent role. She is the Academy's 18th Sculpture Artist-in-Residence.
Ripple came to Cranbrook from Los Angeles, where she previously held teaching positions at California State University, Northridge, California Institute of the Arts, University of California, Riverside, UCLA, and Los Angeles Community College. She holds a Master of Fine Arts degree in Sculpture from Yale University and Bachelor of Fine Arts Degree in Sculpture and Graphic Design from Alfred University.
She has exhibited throughout the United States and in Italy, at venues including Klowden Mann Gallery; the Los Angeles Museum of Art; Pasadena Museum of California Art; Amelia Museum of Archeology; La Nube di Oort Gallery, Italy; Kristin Engle Gallery; Rosamund Felsen Gallery; the Brewery Project; LAX Expo in Los Angeles; the Armory Center for the Arts, Pasadena; the Portland Institute for Contemporary Art; Tilt Gallery and Upfor Gallery, Portland; and many others.
Her work has been featured in Sculpture magazine, Artillery magazine, and reviewed in Los Angeles Weekly, the Huffington Post, ArtScene, Artillery, Chicago Tribune, and American Craft. Two recent catalogs of her work feature essays by Mitch Speed, Chris Miles, and Jay Erker.
She attended Skowhegan School of Painting and Sculpture, and has received multiple awards including a C.O.L.A. (City of Los Angeles Individual Fellowship), a Nathan O. Freedman Endowment for Exceptional Creative Accomplishments Award, Arts Midwest Grant, Illinois Arts Council grant, and a fellowship and residency at the Bemis Foundation.
"We have had the privilege of watching Rebecca work with our students throughout the past year," said Deines. "She has an innate way of bringing out the best in them while pushing the boundaries of what she knows they are capable of to produce their best work. She was a natural choice for the position."
Ripple is represented by Klowden Mann Gallery in Los Angeles. See her work on her website: https://rebeccaripple.com/.
Both Wilkins and Ripple will begin their positions in the fall of 2018.