Danielle Dean Named Photography Artist-in-Residence at Cranbrook Academy of Art
August 29th, 2017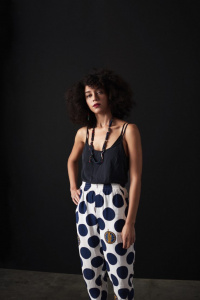 Bloomfield Hills, Mich., August 29, 2017 – Christopher Scoates, the Maxine and Stuart Frankel Director of Cranbrook Academy of Art and Art Museum, and the Cranbrook Academy of Art Board of Governors, announced today that Danielle Dean has been named the Artist-in-Residence for the Academy's Photography department. Dean replaces Liz Cohen, who left the Academy in the spring.
Dean is an Alabama-born, part-Nigerian, London-raised visual artist. She comes to Cranbrook after teaching at Rice University in Houston and the California Institute of Arts.
She has been a visiting artist here at Cranbrook, and also at the School of the Art Institute of Chicago. She is a fellow of the Skowhegan School of Painting and Sculpture, and participated in the Whitney Independent Study Program (2014) and the Core Program in Houston (2016).
She is currently a participant of The Drawing Center's "Open Sessions" in New York City. Her awards include an Emerging Artist Grant from the Rema Hort Mann Foundation, a 2015 Creative Capital Award, and she is currently a resident at the Rijksakademie van Beeldende Kunsten in Amsterdam.
She received her MFA from the California Institute of the Arts and her BFA from Central Saint Martins in London. She works primarily in video, drawing, sculpture and performance. Her work explores the colonialism of mind and body—the interpellation of thoughts, feelings and social relations by power structures working through news, advertising, political speech, and digital media. Danielle focuses on processes of constructing and commodifying raced, gendered, aged and classed subjectivities through target-marketing practices. She is specifically interested in subverting such processes to understand and shift them toward a non-essentialized space of being, blurring fiction, fact, subject and object.
"Danielle is an innovative artist whose rich background will give our students a mentor who can coach them in a variety of mediums," said Scoates. "We are thrilled that she chose to come to Cranbrook, and look forward to adding her voice to our studio spaces this fall."
Her recent solo exhibitions include She at the SFMOMA Open Space (online commission); Focus at The Studio Museum in Harlem, New York; a shoe, a phone, a castle at the Los Angeles Commonwealth and Council. Select group exhibitions include From concrete to liquid to spoken worlds to the word at the Centre D'Art Contemporain Geneve in Geneva, Switzerland; In Practice: Material Deviance, at the Sculpture Center in New York; Lagos Live at the Goethe Institut Nigeria in Lagos, Nigeria; Experimental People at The Highline in New York City; Shifters at Art in General in New York; It Can Howl at the Atlanta Contemporary Art Center in Atlanta, Georgia; What Shall We Do Next? at DiverseWorks in Houston; Effeminaires at Western Exhibitions in Chicago; and Made in L.A. 2014 at the Hammer Museum in Los Angeles.
"We think Danielle's work in developing dialogues to investigate and question social narratives, such as issues surrounding race and gender, will bring about thoughtful and topical conversations with our students. We look forward to having her on campus," said Amy Green Deines, Dean of Cranbrook Academy of Art.
Danielle Dean Photograph by Jeff Vespa
Media Contact
Julie Fracker
Director of Communications
Cranbrook Academy of Art and Art Museum
248.645.3329
jfracker@cranbrook.edu