Ed Fella to Receive Distinguished Alumni Award
November 4th, 2014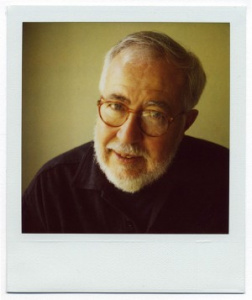 Bloomfield Hills, Mich., November 5, 2014 — Cranbrook Academy of Art is pleased to announce that it will confer its Distinguished Alumni Award on California-based graphic designer Ed Fella (Design '87) at his upcoming lecture at the Academy on November 9.
The Distinguished Alumni Award is one of the highest honors bestowed by the Academy and recognizes graduates who have demonstrated creativity, innovation, leadership, and vision through their contributions to the practices of architecture, art, and design, as well as to Cranbrook Academy of Art.
Ed Fella attended Cranbrook Academy of Art after spending three decades as a commercial artist in Detroit. He graduated from the Academy's Design program in 1987, and subseqently joined the faculty at the California Institute of Arts. He has continued his career as a self-described "exit level designer," undertaking a wide ranging series of idiosyncratic projects that stubbornly resist catagorization, though they freely partake of the conventions of graphic design, typography, photography, illustration and fine art.
"For Ed Fella, his career after Cranbrook Academy Art proved to be a charmed second act," says Chris Scoates, Director of Cranbrook Academy of Art and Art Museum. "He is often referred to as a 'pioneer of postmodern graphic design' and we couldn't agree more. We're proud of his contributions to the field of graphic design, and honored to call him an Academy graduate."
Fella will deliver the lecture "History, Commercial Art, Art and the American Vernacular" on November 9 at 4pm in deSalle Auditorium at Cranbrook Art Museum.
Fella retired from the California Institute of the Arts last year, after shaping a new generation of graphic designers for more than 20 years. He is the recipient of a 1997 Chrysler Award and a 2007 AIGA Medal. His work is held in the National Design Museum and the Museum of Modern Art.
His solo exhibition, Ed Fella: History, Commercial Art, Art and the American Vernacular opens at the College for Creative Studies on November 8, and will be on display until December 13, 2014.
For more than 75 years, Cranbrook Academy of Art has been home to some of the world's most renowned designers and artists. Eero Saarinen, Charles Eames, Daniel Libeskind, Michael and Katherine McCoy, and Jun Kaneko have all taught here, to name only a few. Academy students have included Florence Knoll, Harry Bertoia, Jack Lenor Larsen, Nick Cave, Tony Matelli, Niels Diffrient, Masamichi Udagawa, Lorraine Wild, and Hani Rashid. The work emanating from Cranbrook has in many ways changed the way people live, and the way they understand art and design.
Past recipients of Cranbrook Academy of Art's Distinguished Alumni Award include Peter Bohlin (Architecture '61), Niels Diffrient (Design '54), Anne Wilson (Fiber '72) and Donald Lipski (Ceramics '73).
Cranbrook Academy of Art
Cranbrook Academy of Art is the country's top ranked, graduate-only program in architecture, design and fine art. Each year, just 75 students are invited to study and live on our landmark Saarinen-designed campus, which features private studios, state-of-the art workshops, a renowned Art Museum, and 300 acres of forests, lakes, and streams, all a short drive from the red-hot art, design, and music scene of Detroit. The focus at Cranbrook is on studio practice in one of ten disciplines: Architecture, 2D and 3D Design, Ceramics, Fiber, Metalsmithing, Painting, Photography, Print Media, and Sculpture. The program is anchored by celebrated Artists- and Designers-in-Residence, one for each discipline, all of whom live and practice on campus alongside our students. For more information, visit us at www.cranbrookart.edu.