Ruth Adler Schnee Receives Distinguished Alumni Award
May 13th, 2015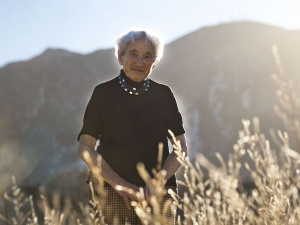 Image credit: Elly Stewart
Bloomfield Hills, Mich., May 11, 2015 – Cranbrook Academy of Art is pleased to announce that the recipient of this year's Distinguished Alumni Award is Ruth Adler Schnee. She was presented with the award at the Academy's May 8 commencement ceremony.
The Distinguished Alumni Award is one of the highest honors bestowed by the Academy and recognizes graduates who have demonstrated creativity, innovation, leadership, and vision through their contributions to the practices of architecture, art, and design, as well as to Cranbrook Academy of Art.
Ruth Adler Schnee graduated from Cranbrook Academy of Art with a degree in Design in 1946, one of the first women to achieve this distinction. She went on to work on the designs of the General Motors Technical Center in Warren (with architect Eero Saarinen in 1950-55), the World Trade Center (with Minoru Yamasaki in 1970-77) and the update of Albert Kahn's Ford Rotunda in Dearborn (1952-53).
In 1948, she opened the Adler-Schnee store in Detroit with her late husband Edward Schnee, and it became of one of the first shops in the nation to sell modern home fabrics and furnishings to the public. She still designs custom fabrics for KnollTextiles, where she holds a 20-year contract, and Anzea Textiles, an upholstery company. At 91, she continues to work most of the year from her studio in Southfield.
"At Cranbrook, we can measure our institutional treasures in objects, buildings or even our idyllic setting. But the truth is, our riches lie in our graduates, especially those like Ruth Adler Schnee," says Chris Scoates, the Maxine and Stuart Frankel Director of Cranbrook Academy of Art and Art Museum. "Ruth was a trailblazer, shaping the landscape of modern textile design. We're proud to call her an Academy graduate and thankful for all she continues to give back to our community."
Schnee recently recently received the 2015 Kresge Eminent Artist Award in recognition of her professional achievements and contributions to metropolitan Detroit's cultural community, and dedication to Detroit and its residents.
A selection of the Edward and Ruth Adler Schnee Papers are currently accessible via the Cranbrook Archives website. Her work was recently on view at Cranbrook Art Museum during the exhibitions Michigan Modern: Design that Shaped America and My Brain Is in My Inkstand: Drawing as Thinking and Process.
For more than 75 years, Cranbrook Academy of Art has been home to some of the world's most renowned designers and artists. Eero Saarinen, Charles Eames, Daniel Libeskind, Michael and Katherine McCoy, and Jun Kaneko have all taught here, to name only a few. Academy students have included Florence Knoll, Harry Bertoia, Jack Lenor Larsen, Nick Cave, Tony Matelli, Niels Diffrient, Masamichi Udagawa, Lorraine Wild, and Hani Rashid. The work emanating from Cranbrook has in many ways changed the way people live, and the way they understand art and design.
Past recipients of Cranbrook Academy of Art's Distinguished Alumni Award include Peter Bohlin (Architecture '61), Niels Diffrient (Design '54), Anne Wilson (Fiber '72), Donald Lipski (Ceramics '73) and Ed Fella (Design '87).