Zack Ostrowski named Visiting Designer-in-Residence at Cranbrook Academy of Art
April 27th, 2017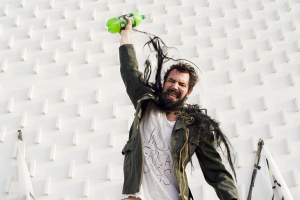 Elliott Earls Awarded Sabbatical for Fall 2017
Bloomfield Hills, Mich., April 13, 2017 – Cranbrook Academy of Art is pleased to announce that Zack Ostrowski has been named the visiting Designer-in-Residence of the Academy's 2D Design Department for the fall 2017 semester. Current 2D Designer-in-Residence Elliott Earls will be on sabbatical.
Zack Ostrowski (also known under his alias BEVERLY FRESH) is an artist, designer and musician who has exhibited and performed throughout the U.S. and internationally, including China, the Czech Republic, France, Germany, Japan, Peru, Poland and Ukraine. He is the co-founder of sUPERIORbelly (1999) an art collective and record label based in Detroit, co-founder of WILD AMERICAN DOGS (2013), an interdisciplinary art duo producing experimental films and performances, and co-founder of the Archive of Midwestern Culture (2016) an organization committed to documenting creative life in the rural Midwest. He graduated from Cranbrook Academy of Art's 2D Design Department in 2009. He is currently an Associate Professor and Area Head of Graphic Art at DePaul University in Chicago.
While Ostrowiski is at Cranbrook this fall, he is also scheduled to perform the "WILD AMERICAN DOGS REAL BIG TENT REVIVAL SHOW" at the Detroit Institute of the Arts as part of the Instrumental Performance Festival. He will also be screening his feature-length experimental film, "BATHTUB SONGS AND OTHER EXTRA-CURRICULAR ACTIVITIES" at the Nightingale Theater in Chicago. Recent notable exhibitions include "MR. MDWST – A REAL GOOD TIME" (2015), a solo exhibition at Cranbrook Art Museum. His forthcoming solo exhibition, "REALLY SOMETHIN' ELSE" (spring 2018) will be held at the DePaul Art Museum in Chicago.
Earls will present the results of his sabbatical research in 2018.