Designer Ed Fella Featured In New Book, "Ed Fella: A Life in Images"
April 10th, 2022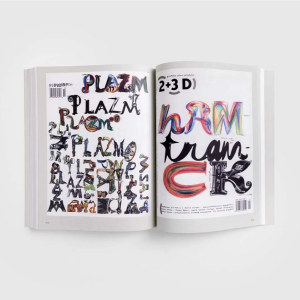 Ed Fella (Design '87) is featured in a recent book, Ed Fella: A Life In Images, from Fella and his daughter Andrea Fella, edited by David Cabianca (2D Design '01). Print Mag details Fella's background and influence on the graphic design community from his time at Cranbrook Academy of Art and then as an instructor at CalArts. Fella is known for his typographic work in a style that evokes inspiration from Surrealism, Dada, and Futurism.
Early in his career, Ed Fella worked in Detroit as an illustrator and designer in the automotive industry. He attended Cranbrook Academy of Art later in life, he was in his late 40s when he enrolled. He studied at the Academy during the time when Michael and Katherine McCoy headed the Design department with the intention of pursuing teaching roles after receiving his MFA.
Ed Fella: A Life In Images features an introduction by Katherine McCoy and essays from fellow Academy alumni, Lorraine Wild (Design '75), David Cabiance (2D Design '01), and British writer, Rick Poynor
About Ed Fella: A Life in Images from Unit Editions