Cranbrook Academy of Art Alumni Featured in Next:Space Detroit's 2nd Edition of "Hand Werk"
July 21st, 2022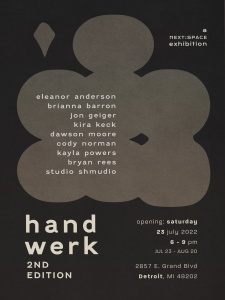 Several Cranbrook Academy of Art alumni and one current student are featured in a new group exhibition from Next:Space Detroit. The 2nd and final edition of "Hand Werk" surveying craft disciplines, artists, and ideas that create compelling objects for contemporary living. Alumni participants include Eleanor Anderson (Fiber '22), Jon Geiger (Ceramics '14), Kira Keck (Fiber '22), Cody Norman (3D Design '20), Kayla Powers (Fiber '23), and Forrest Hudes (3D Design '21) of Studio Shmudio.
The exhibition opens on Saturday, July 23 with a reception from 6-9pm. "Hand Werk" will be on view through August 20, 2022.