Will Wilson Workshops Tintypes and Discusses Representation in Photographic Portraiture
February 24th, 2023
Earlier this month, Cranbrook Academy of Art's Photography department hosted Diné (Navajo people) photographer Will Wilson as a Visiting Artist. Wilson spent time with students in their studios and shared his process in an all-day workshop.
Wilson was selected as a Visiting Artist by the Second-Year class because his practice aligns with several of their concerns: an identity-informed practice rooted in a social ethos that uses craft to cultivate community.
In the workshop, students created individual and group portraits using wet collodion photography, commonly known as tintypes.  Tintypes were invented in the early 1850s and were regularly produced through the end of the 19th century. With this process, negatives are printed with light-sensitive chemicals on a metal or glass surface. 
After an initial demonstration, Wilson handed camera and chemistry over to the students. They worked with his 8"x10" view camera and antique lens. They poured collodion onto aluminum plates and coated them with silver. They exposed and developed the plates.  
The group photographed both outdoors under natural light and indoors in front of a bank of six strobe lights. Because wet plate photography is not very sensitive to light, they sought out places and procedures that enabled the illusion of instantaneous image-making. Every photograph took fifteen to thirty minutes to make from start to finish, and several exposures required subjects to remain still for up to five seconds.  
All the participants were able to keep the tintypes they made with Wilson's guidance. 
Tintype portraits of Native Americans during the 19th century were often taken by photographers who posed their subjects in costume, portraying an inaccurate representation of individuals and Indigenous culture in the time period. 
Wilson takes portraits today with the same technique to challenge what people think about those historical portraits and create a re-imagined vision of his sitters today. Wilson's Critical Indigenous Photographic Exchange (CIPX) is one of the largest archives of Native American portraiture. The exchange includes 4,000 portraits made by Wilson over more than 10 years including Native and non-Native sitters from across the world. The portraits of Cranbrook students are now an official entry in the CIPX project. 
Wilson also visited Cranbrook Art Museum and its Collection Wing with the Photography department to explore a selection of photographic works. 
Of the workshop, Head of Photography and Artist-in-Residence, Chris Fraser says, "because my students have a wide variety of practices, we seldom host workshops. While I do not expect that any of my students will incorporate tintypes into their practices, I was reminded of how a hands-on approach to photography can gather people together in common purpose. I really enjoyed watching my students get caught up in the process, helping each other technically and conceptually, and visibly having fun."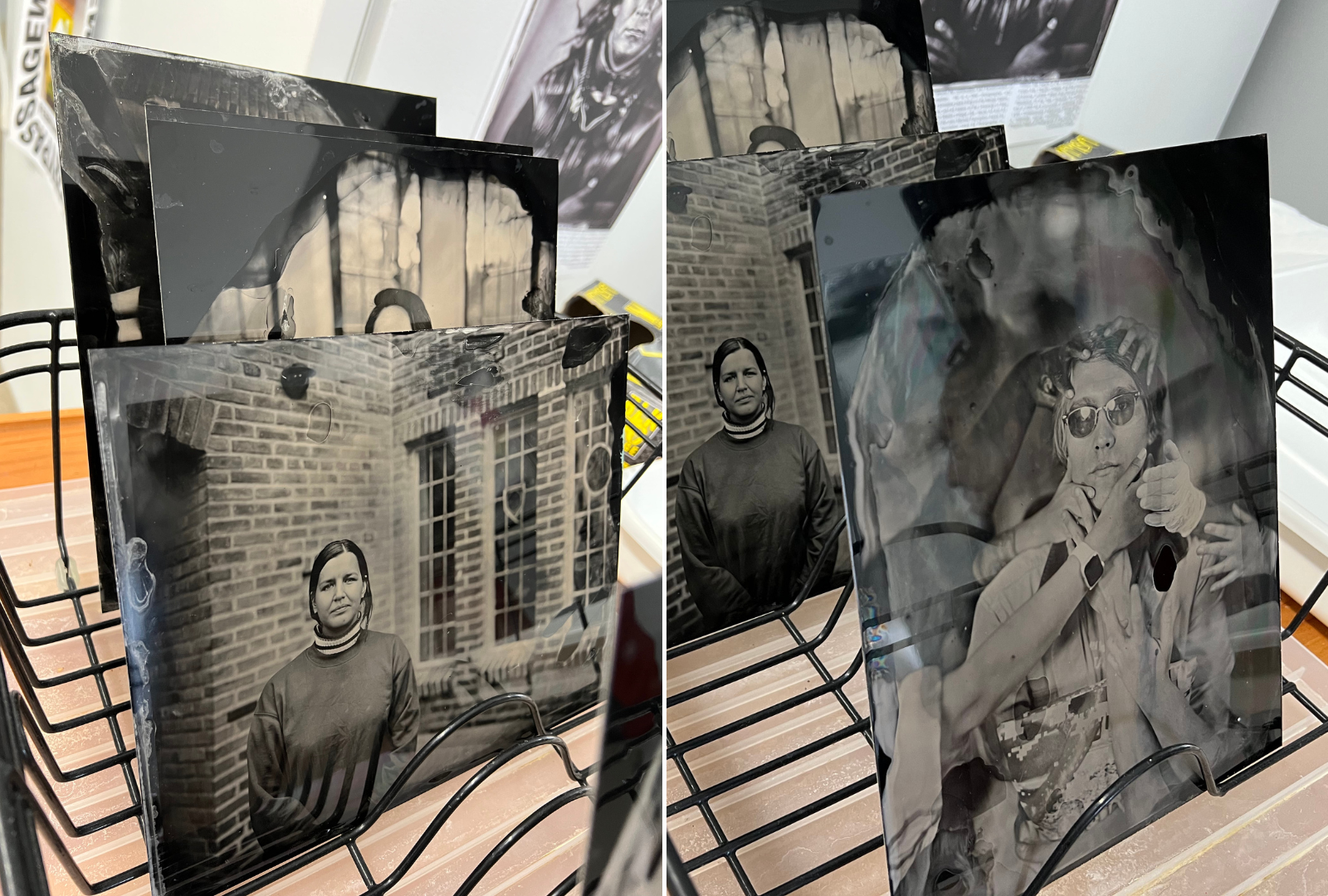 What's coming up for Photography at Cranbrook? They are heading to the Society of Photographic Education (SPE) National Conference in Denver in just a few weeks!  
Learn more: 
Photography at Cranbrook Academy of Art 
Visiting Artists/Critics at Cranbrook Academy of Art 
Troubling NDN Pictures: Challenging the Historic Representation of Indigenous People – The Democratic Lens