3D Design Alum Forrest Hudes Featured in Collaborative Exhibition with Katie Shulman
March 27th, 2023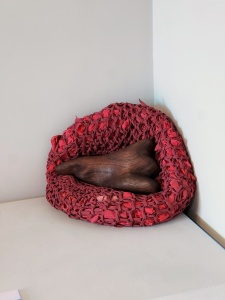 Forrest Hudes (MFA 3D Design 2021) is part of a collaborative exhibition with Detroit-based Fiber artist Katie Shulman at I.M. Weiss Gallery. Their work in Myrrah engages two distinct materials, wood and fiber, to create a shared language becoming a metaphor for the human body. The objects, including sculpture, furniture, and more challenge false perceptions of the physical realities of the human body.
The exhibition title comes from the ancient Greek myth, the story of 'Myrrah', traditionally a parable about the dangers of women's sexuality. The main character is chased from her home with an unwanted pregnancy, and changed into a myrrh tree by the gods, either as punishment or protection, her tears manifesting as the tree's sap. The nature of these sap tears inspired both the formal language and the choreographic process of how this shared body of work was produced. In the ancient world, myrrh tree sap was as valuable as gold, as the story of Myrrah is to the two artists.
Myrrah is on view through May 6, 2023.
Learn more: