3D Design Alumni Chris Schanck and Jay Sae Jung Oh Featured in "Mirror Mirror" at The Chatsworth House
March 29th, 2023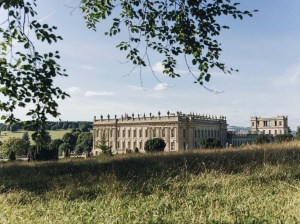 Two Cranbrook Academy of Art 3D Design alums are featured in a new group exhibition, Mirror Mirror: Reflections on Design at The Chatsworth House in Central England. Co-curated with writer, historian, and curator, Glenn Adamson, the exhibition places contemporary works in direct relationship to the historic design at Chatsworth, creating unexpected connections with Devonshire's outstanding art collection and the house's existing architecture and interiors.
Jay Sae Jung Oh (MFA 3D Design 2011) and Chris Schanck (MFA 3D Design 2011) along with other artists included in the show, created new works in response to particular areas and objects within Chatsworth House.
Jung Oh created a throne in her signature style containing a number of broken musical instruments at its core, including a French horn, a snare drum, and an electric guitar. The throne is a response to Chatsworth's State Music Room.
Chris Schanck has two works installed in Chatsworth House's Grotto. His tall cabinet and mirror connect to elements of the historical space, the indoor fountain, the Chatsworth's geological collection (displayed in the cabinet), and the vertical pillars surrounding the cabinet.
Sixteen contemporary artists and designers in total are featured in the exhibition; Including Ini Archibong, Michael Anastassiades, Wendell Castle, Andile Dyalvane, Ndidi Ekubia, Najla El Zein, Formafantasma, Joris Laarman, Max Lamb, Fernando Laposse, Jay Sae Jung Oh, Samuel Ross, Chris Schanck, Ettore Sottsass, Faye Toogood, and Joseph Walsh.
Mirror Mirror: Reflections on Design is on view from March 18 through October 1, 2023.
Learn More:
How Can You Make an English Manor Filled With Old Masters Feel Contemporary? At Chatsworth House, the Answer Is Cutting-Edge Design – Artnet News
Chatsworth House design exhibition explores contemporary design themes in an eclectic setting – Wallpaper
Jay Sae Jung Oh's Savage Sculptures Will Melt Your Mind – Design Milk
Mirror Mirror: Reflections on Design – The Chatsworth House