Sarah C. Blanchette's Solo Exhibition Opens June 10 at Massillon Museum
May 30th, 2023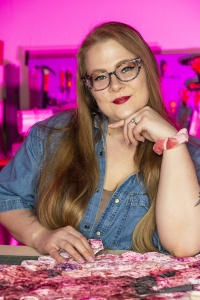 Sarah C. Blanchette (MFA Photography 2017), a photo-based fiber artist based in Detroit, opens a new solo exhibition titled All Shook Up – textiles and mixed media prints at Studio M at Massillon Museum on June 10, 2023. Blanchette uses hand and machine sewing techniques and physical manipulations of self-portraits to capture her experiences of growing up in a digital world and her journey toward independence and empowerment as a woman.
About the exhibition, Blanchette says, "Moving through grief, time, and the end of a transformative decade, I explore my origins in an effort to grasp this new life."
Since establishing her studio practice in 2015, Blanchette has showcased her artwork nationally and online in various galleries, museums, zines, blogs, and artist-run spaces. Additionally, she is the co-founder of the artist collective, Critical Stuff, and holds memberships with Studio Art Quilt Associates (SAQA) and Embrace Creatives.
All Shook Up is on view at Massillon Museum from June 10 to July 23, 2023. An opening reception will take place on June 10, from 5-7pm and a MassMusings podcast episode featuring an interview with Blanchette will release on July 18 at 12pm.
Learn more: