American Craft's Look at Craft in Detroit Feature Academy Alumni
June 16th, 2023
American Craft Magazine recently featured seven Detroit artists looking at the craft landscape, including three Cranbrook Academy of Art alumni.
Zahra Almajidi (MFA Metalsmithing 2021) discusses the challenges of a city experiencing gentrification but is also gaining new opportunities from supporters who value the city and artists' impact on its culture. She observes "new residency spaces, galleries, grant opportunities, and creative events popping up" continuing the city's long history as a space where artists can thrive and create exciting work.
Almajidi's work explores the assimilation and erasure of cultures, often through highly detailed, decorative objects that may have cultural significance or social influence. She recently closed a solo exhibition, reCRAFTED Histories, at the Arab American National Museum in Dearborn, MI, where she was previously an Artist-in-Residence. In addition to her creative practice, she is the Assistant Technology Coordinator at Cranbrook Academy of Art and an adjunct professor at Wayne State University.
Chris Schanck (MFA 3D Design 2011) Of Detroit's current art landscape he says, "This is a community of the most resourceful, committed, and tenacious artists I've ever met. If New York is about finding a place in a status-driven art world, in Detroit one will find an enduring belief in community, self-sufficiency, and in art as an end in itself."
Schanck is included in Mirror, Mirror: Reflections on Design at Chatsworth, at Chatsworth House in the UK along with fellow 3D Design alum Jay Sae Jung Oh (MFA 3D Design 2011). The exhibition includes works that respond to various locations throughout the historic home. Schanck's contribution is a signature cabinet, in conversation with unique columns of the home's Grotto and geological collection.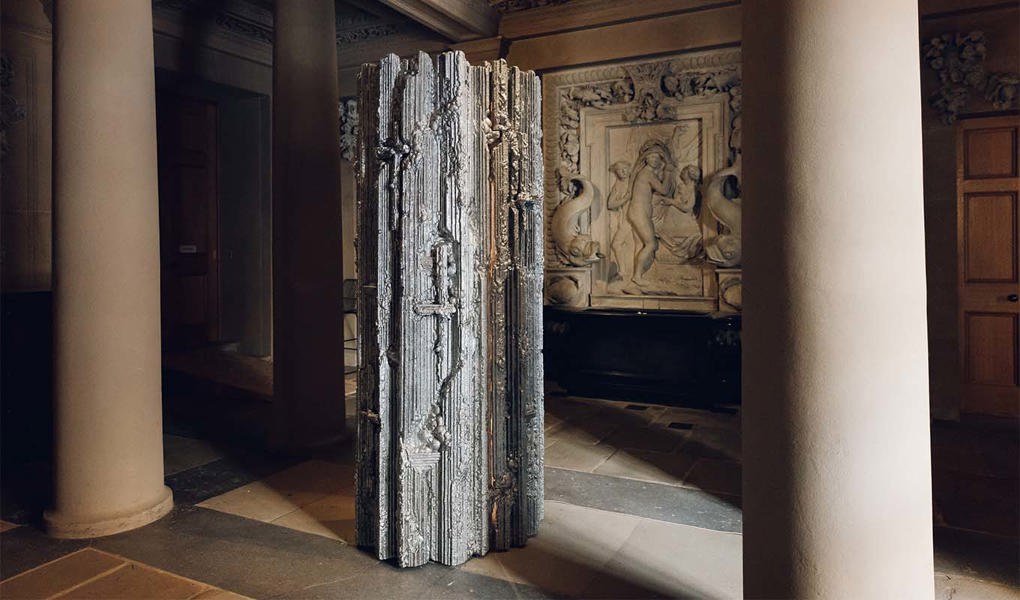 Tiff Massey (MFA Metalsmithing 2011) touched on the struggle of Detroiters, but also praised its culture for creatives, "The culture and the vibe—there is no beef here. It's nothing but love in the arts community all the time."
Massey is an interdisciplinary artist, working across jewelry, sculpture, music, and performance. Her work is inspired by African standards of economic vitality, the iconic material culture of 1980s hip-hop, and contemporary observance of class and race through the lens of an African diaspora and her experience in Detroit. Massey is a 2015 Kresge Arts in Detroit Fellowship awardee, a two-time John S. and James L. Knight Foundation's Knight Arts Challenge winner, a 2019 recipient of Art Jewelry Forum's Susan Beech Mid-Career Artist Grant, and a 2021 United States Artists Fellowship awardee.
Featured artists also mentioned their inspirations and peers who they admire also working in Detroit, many of whom are Academy students and alumni including Caroline del Guidice (MFA Sculpture 2020), Aaron Blendowski (MFA 3D Design 2006), Jack Craig (MFA 3D Design 2012), Brian DuBois (MFA 3D Design 2011), Tiff Massey, Ebitenyefa Baralaye (MFA Ceramics 2016), Amy Weiks (MFA Metalsmithing 2012), Rashaun Rucker (Print Media 2024)
Many of these Detroit artists have works in the permanent collection of our sister institution, Cranbrook Art Museum, and have been included in solo and group exhibitions in its galleries. This fall, the art museum continues its dedication to featuring Detroit artists including Rashaun Rucker mentioned in American Craft's article in a new group exhibition, Skilled Labor: Black Realism in Detroit.
In addition to the artists, American Craft details several places and spaces for art and artists in Detroit including workshops, studios, galleries, residencies, shops, and schools. Among these are spaces founded or managed by Academy alumni and many galleries that represent our Artists-in-Residence, students, and alumni. For example, Smith Shop, a craft-centric metalworking studio, is run by Gabriel Craig and Amy Weiks (MFA Metalsmithing 2012); multiple alumni utilize studios and shared spaces at ONICORP DETROIT in Eastern Market and Russel Industrial Center; and Talking Dolls studio, gallery, and residency is led by Wes Taylor (MFA 2D Design 2012), Ron Watters, and Andrea Cardinal (MFA 2D Design 2009).
Learn more:
The Scene: Craft in Detroit – American Craft Magazine
The Scene: Places and Spaces in Detroit – American Craft Magazine
reCRAFTED Histories: An Installation by Zahra Almajidi – Arab American National Museum
3D Design Alumni Chris Schnack and Jay Sae Jung Oh Featured in "Mirror Mirror" at The Chatsworth House
Award-winning Alumni of Cranbrook Academy of Art