Rashaun Rucker's Solo Exhibition, "Patron Saints of a Black Boy," Currently On View at South Bend Museum of Art
November 3rd, 2023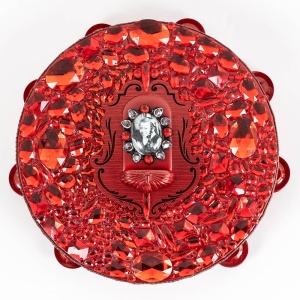 Current Cranbrook Academy of Art student and Detroit-based artist Rashaun Rucker (Print Media 2024) recently opened a new solo exhibition, Patron Saints of a Black Boy, at the South Bend Museum of Art.
Through the featured works, Rucker hopes to address what he terms being "covered in black, " meaning prayers, pleadings, and rituals practiced within the Black community offering protection of family or community. He also considered who his personal saints are through this work.
Rucker's practice spans photography, printmaking, drawing, and installation work. He is an award-winning photographer, receiving Michigan Press Photographer of the Year and a national Emmy for documentary photography on pitbull culture in Detroit, both in 2008. He has also received numerous residencies and fellowships including the Kresge Arts Fellowship in 2019.
Patron Saints of a Black Boy will be on view through January 7, 2024.
Patron Saints of a Black Boy – South Bend Museum of Art
Rashaun Rucker's Solo Exhibition at South Bend Museum of Art Opens Soon – M Contemporary