Jane Lackey and Lola Brooks Named Visiting Faculty at Cranbrook Academy of Art
June 9th, 2015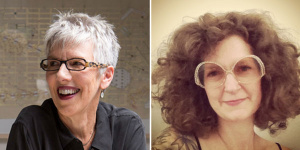 Artists-in-Residence Mark Newport and Iris Eichenberg to Take Sabbaticals
Bloomfield Hills, Mich., June 9, 2015 – Jane Lackey and Lola Brooks have been named 2015-2016 visiting faculty at Cranbrook Academy of Art. Fiber Artist-In-Residence Mark Newport and Metalsmithing Artist-in-Residence Iris Eichenberg have each been awarded sabbaticals.
Lackey will be the Visiting Fiber Artist-in-Residence for the Fall 2015 semester. Currently based in Santa Fe, New Mexico, Lackey served as the past Fiber Artist-in-Residence at Cranbrook Academy of Art from 1997 through 2007. Informed by a cross-section of disciplines, Lackey's artwork evolves from a core interest in textiles and drawing. Her works on paper, sculpture and installations map micro/macro comparisons as they explore themes of identity, communication and place within the context of process and materials. Current installations involve participatory writing.
Lackey's works have been shown in solo and group exhibitions in venues including the Wellcome Trust, London; Contemporary Art Space, Osaka, Japan; I Space, Chicago; Exit Art, NYC; Tang Teaching Museum, Saratoga Springs, NY; Detroit Institute of Arts; the Art Gym, Marylhurst, OR; Asheville Art Museum, North Carolina; Cranbrook Art Museum, Bloomfield Hills, MI; Center for Contemporary Art and New Mexico Museum of Art, Santa Fe, NM; Loranger Art and Architecture Center, Detroit, MI along with numerous other museums and galleries.
She was Professor and Department Chair of Fiber at Kansas City Art Institute from 1980 through 1997 before coming to Cranbrook Academy of Art. She is currently a contributing faculty member at Santa Fe University of Art and Design.
Newport will spend his sabbatical studying textiles focusing on the subject of "Repair and Memory." He will begin with an in-depth study of mending samplers at museums in the U.S., the UK, and the Netherlands.
Brooks will be the visiting Metalsmithing Artist-in-Residence in the Spring of 2016. She is an artist and metalsmith who began her arts education at Pratt Institute and went on to study at SUNY New Paltz where she earned a BFA in Metals. Fascinated by jewelry as a cultural signifier, she is influenced by both historical jewels and material hierarchies that she believes are both imbued with meaning far beyond their mere physicality.
Living and working New York City for 24 years provided Brooks with infinite possibilities for a multi-faceted approach to exploring the format of jewelry as it relates to art, design, and fashion.
In 1996, Brooks was included in the Talente exhibition in Munich and since then has participated in many gallery and museum shows around the country. Her work can be found in the collections of the Yale Art Gallery, New Haven, CT; the Samuel Dorsky Museum, New Paltz, NY; The Racine Museum of Art, Racine, Wisconsin; and both The Museum of Art and Design and the Metropolitan Museum of Art in New York City.
She has taught at the University of Georgia where she served as the Lamar Dodd Professorial Chair 2012-13; Rhode Island School of Design; University of the Arts in Philadelphia; SUNY New Paltz; as well as the 92nd St Y in NYC, Haystack and Penland School of Crafts. The Recipient of the Sienna Gallery Emerging Artist Award in 2002, Brooks' work has been reviewed and/or included in many publications including four of the Lark Books jewelry series, American Craft,Metalsmith, Out, W, Vogue, Lucky and BlackBook magazines.
Eichenberg will be spending her sabbatical traveling to Mexico, Brazil, and Argentina to create a new body of work and to develop new relationships with Latin American galleries, museums, and universities as well as reaching out to potential students and new arts initiatives.
"A sabbatical leave for Mark and Iris allows each of them to develop new research and explore new territories in their studio work," said Sarah Turner, Academic Dean of Cranbrook Academy of Art. "Our students benefit not only from the professional growth that Mark and Iris will bring back to the Academy, but also from the experience of they will receive from working with two exceptional guest artists. Having Jane Lackey and Lola Brooks in residence is a gift to the entire community."