Shanna Merola Named Interim Photography Artist-in-Residence at Cranbrook Academy of Art
July 11th, 2019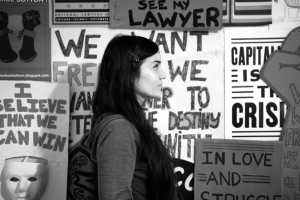 Bloomfield Hills, Mich., July 11, 2019 – Cranbrook Academy of Art is pleased to announce that Shanna Merola has been named the interim Artist-in-Residence in the Academy's Photography Department for the 2019–2020 academic year. Merola replaces Danielle Dean, who left the Academy at the end of the 2018–2019 year.
Merola is a 2011 graduate of the Cranbrook Academy of Art Photography Department and currently practices as a visual artist, photojournalist, and legal worker. In addition to her studio practice, she has been a human rights observer during political uprisings across the country, from the struggle for water rights in Detroit and Flint, Mich., to the frontlines of Ferguson, Mo., and Standing Rock, N.D. Her collages and constructed landscapes are informed by these events.
She currently lives in Detroit, Mich., where she facilitates Know-Your-Rights workshops and coordinates legal support for grassroots organizations through the National Lawyers Guild. In the fall of 2018, she led a four-week art and law seminar as a visiting Artist-in-Residence at Cranbrook.
She has been awarded studio residencies and fellowships through the MacDowell Colony, Kala Institute of Art, the Virginia Museum of Fine Art and the Midwest Environmental Justice Network. Merola's collaborative projects include Detroit Resists – a digital occupation of the U.S. Pavilion at the Venice Biennale (2016), and Oil + Water: Photography in the Age of Disaster Economies (2017). She is the recipient of the 2019 Society for Photographic Education's Image Maker Award and a 2019 Puffin Foundation Project Grant. In addition to her MFA in Photography from Cranbrook, she holds a BFA in Photo and Film from Virginia Commonwealth University. Her work has been published and exhibited both nationally and abroad.
"Shanna is a perfect fit for the Academy at this point in time, " said Susan R. Ewing, the Maxine and Stuart Frankel Director of Cranbrook Academy of Art. "Her practice is at the crossroads of photography and social justice, which adds another dimension of interest for our students. Her art and law seminar held at the Academy last year was extremely well-received and showed us that there is a desire among our students to explore the role citizenship plays in their practice. We look forward to welcoming her back to campus in the fall."
Merola says, "Ten years ago I came to Cranbrook inspired by the Academy's visionary legacy which has helped to shape art and design in the 20th century. I discovered an educational model committed to risk-taking, scholarship, a rigorous studio practice, and the support of a dedicated mentor. It is an honor to return in this capacity and to guide a new generation of artists working in pursuit of their own truths."
A search for a permanent replacement will commence in the 2019-2020 academic year.